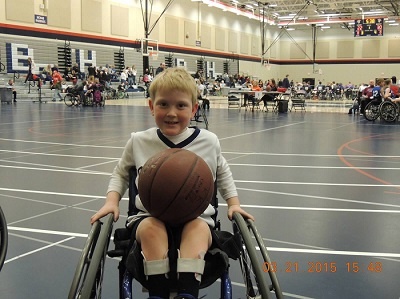 Today is World Spina Bifida Day! As Team ABC Medical, we are excited to celebrate this important day by helping build awareness for spina bifida and sharing some of the unique stories of families from all across our country. In this Q&A, originally published last year, we got to chat with Misty Schaff from Shelbyville, IN, who along with her husband Travis is raising 3 boys. The youngest of them, "the baby" of the family, is Kaiden, who is now 9. Kaiden was born with spina bifida.
This is their spina bifida story.
Q: Misty, tell us about yourself and your family. What was your first response when you found out you were expecting a baby with spina bifida?
My name is Misty Schaf and along with my husband, Travis, we are raising our 3 very active boys. We were both born and raised in Shelbyville, IN and we are proud to be raising our family in that same community. Kaleb is 13 years old and in 7th grade at Shelbyville Middle School. Karson is almost 10 years old and is in 4th grade at Coulston Elementary. Kaiden, "the baby", is 8 years old and in the 2nd grade at Coulston Elementary.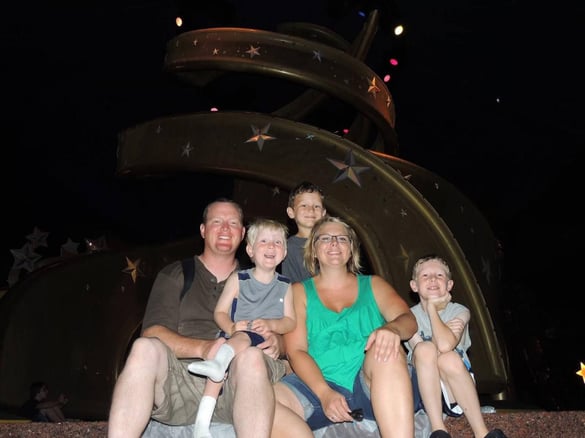 Kaiden was born in 2007 at Indiana University Hospital in Indianapolis, IN. I thought that after having 2 boys already that I had this "mom thing" under control, when I found out Kaiden would also be a boy. When I was about 17 weeks pregnant, we found out that Kaiden would be born with Spina Bifida. I am a registered nurse and Spina Bifida was not a foreign term to me. I immediately thought of all of the negative things that come along with it. I will not lie, I was devastated and unsure how this child was going to fit into our already busy family. Over the next several months, I combed the internet for information of what my child would be like. I wanted to know exactly what he would be able to do and what he would not be able to do. I read about hydrocephalus, neurogenic bowel and bladder, orthopedic impairments, learning disabilities and many other things that go along with the diagnoses of Spina Bifida. I had many sleepless nights, and I couldn't even mutter the word Spina Bifida without crying uncontrollably.
Q: How were the first few years after Kaiden was born?
Kaiden was born by caesarean section at IU Hospital and immediately taken to Riley Hospital for Children to be evaluated by Dr. Joel Boaz. Dr. Boaz is the neurosurgeon who months earlier had brought us into his office on a Friday evening and patiently and honestly answered every question we had. I remember very clearly him saying that having a child with Spina Bifida would be life changing for our entire family. He smiled and said that he is a little biased because he has a passion for "these" kids. He told us it was OK to be scared and worried and it was normal to have questions. Dr. Boaz repaired Kaiden's defect on the day he was born. He followed him closely after surgery for the next several days. Within the first week, Kaiden was showing signs of hydrocephalus and Dr. Boaz implanted a VP Shunt. Kaiden functions at about the level of L-2/3. He has impaired sensation below his waist. On day 7, we were set free to start our life that we had been anticipating for so long.
Q: What medical procedures has Kaiden been through so far and what do you currently use to ensure Kaiden maintains a healthy life during his childhood?
Kaiden has had multiple orthopedic surgeries with Dr. William Didelot at Peyton Manning Children's Hospital. He was born with bilateral clubbed foot and bilateral hip dislocation. He currently wears AFO's and walks with forearm crutches. He has a wheelchair that he uses when he goes longer distances.
On June 3, 2015, Kaiden had a MACE and MONTI procedure done at Riley Hospital for Children by Dr. Martin Kaefer. The recovery was rough but it was worth it seeing him so proud sporting his first pair of "big boy underwear"!
Prior to the MACE and MONTI, Kaiden was intermittently catheterized three times a day. We also did a cone enema every other night to keep him clean during the day.
We just got some catheter samples from ABC Medical, through their personalized Catheter Sample Program. So far, our favorites have been the Hollister Vapro for his MACE and the Hollister Advace Plus Pocket* for his Monti. ABC Medical has been great working with me to find the best product for our needs.
Would you like to sample this product as well? Click here to get started!
When we received our box with our samples, I was like a kid at Christmas! I tore into the package with Kaiden by my side just as excited. Usually Kaiden rips into the packages to only be disappointed when he finds supplies. This time, he was excited about what we had gotten because at the very bottom of the box mixed with catheters and tissue paper was a squishy ball! In my head I thought, wow…this girl (the ABC Medical rep) really gets it! That was worth a million dollars to Kaiden and it was such a simple gesture.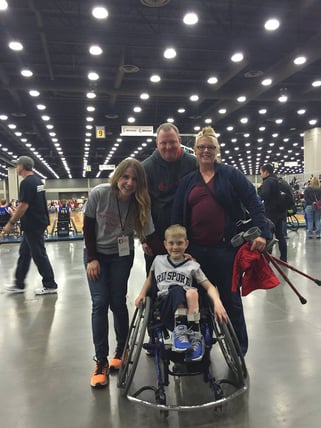 We met Kaiden and his family at the 2016 NWBA Nationals
Q: Is Kaiden involved with any adaptive resource programs?
As far as I know, Riley Hospital and Peyton Manning Children's Hospital, do not offer any adaptive sports programs. However, Kaiden is starting his 3rd season with the RHI (Rehabilitation Hospital of Indiana) Mini Pacer's wheelchair basketball team. The Mini Pacers ranked 3rd at the NWBA National Tournament in 2015. Kaiden does not have to look far to find other athletes to look up to. The RHI Racers team were the national champions in their division in 2015. Kaiden recently also participated in an adaptive swimming clinic and an adaptive archery clinic that was organized by RHI Sports Program. RHI also offers Power Soccer, Track and Field, and Beep Baseball for the Blind and many other adaptive sports programs.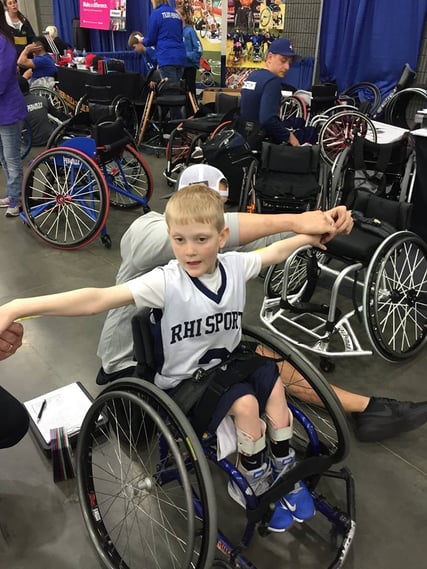 Kaiden getting measured for a new basketball chair from PER4MAX
I have not pursued looking into the resources that will be available as Kaiden approaches adulthood. I know here are many internet resources. I depend a lot on my peers and the other parents we have met along the way. Through this networking, we are able to get many of our questions answered.
Q: What do you wish other people knew about spina bifida?
The thing I wish for most for other parents is to understand that it is okay if their children ask questions. Many times we have had children come up to us and ask Kaiden what happened. He will usually ignore them and becomes slightly annoyed… my answer is that he was born that way and his legs work differently than ours. They usually shrug their shoulders and move along. I think he gets annoyed because he doesn't see it as any big deal and does not understand why they would not already know! Please do not scold your child for asking or saying something you feel is "inappropriate". I use this as time that we can practice handling difficult situations before he has to handle them on his own. It is a learning process for everyone.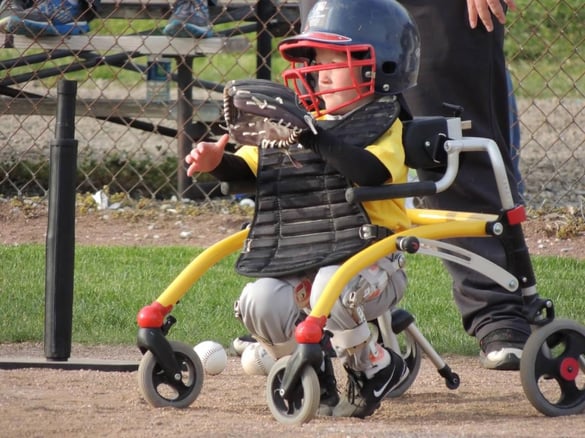 Q: Did you ever have to explain to a child what spina bifida means?
If a child asks what Spina Bifida is I usually use the analogy of a zipper that doesn't not zip all of the way and how Kaiden's spine formed. I tell them that God created him different and He does not make mistakes.
Q: If you were to give advice to expecting parents, what would it be?
If I knew then what I know now…
I would not worry nearly as much about the extent of his disabilities. I know now that no matter how many times the doctors may tell you he will not do this or that, your child's main goal in life will to be to prove to everyone that they can do it!
Do not assume that your child cannot do something…assume that they can. You do not want to look back and realize that with a little bit of hope and faith he could have accomplished anything.
Seek out someone who has been through a similar situation. I love to talk with expecting moms. I try to be who I wish I had when I was in their situation.
Read the essay by Emily Pearl Kingsley about having a child with a disability called "Welcome to Holland". It is very inspiring!