According to the American Urological Association, one-quarter to one-third of men and women in the United States experience some form of urinary incontinence. There are various reasons why one may have a urinary incontinence.
Click here to find out what causes urinary incontinence.
ABC Medical carries an extensive variety of brand-name incontinence products for you to choose. We service all ages (child to adult) and offer a full line of protective underwear, briefs, pads and liners, underpads, wipes as well as male external catheters. We carry a broad range of brands, including. Covidien's line of Wings, Simplicity, Sure Care and Curity. Our customer service team is dedicated to assisting you in finding the right incontinence product to meet your needs.
Your choice for the type and brand of incontinence product to use to manage incontinence is personal and it may depend on the type of urinary incontinence you have. With so many options available, it can be daunting. Our team can help reduce any stress by providing specific information about the differences in products and by sending you various types of incontinence products to try. Our goal is to make sure you are completely satisfied with the products and services you receive.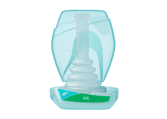 To find out which male external catheter is a customer favorite and to learn about free sampling, click here.