How to Choose the Best Catheter
In our Cath Talk series, we will provide you information on different types of catheters available in the market. If you have been using catheters for more than 5 years, you may have noticed the change in the kinds of catheters available to you. While this is exciting, it can also be confusing. With Cath Talk, our goal is to help you stay up to date with the latest news about catheter supplies.
Choosing the Right Catheters
Choosing the right catheters depends on a wide range of elements such as your gender, weight, age, manual mobility, urethral sensitivity and visual impairment. In addition to that, it may also depend on how often you travel and how physically active you are.
Catheter Materials
Catheters are made out of a wide range of materials. The most common materials are red rubber, latex, silicone, plastic and PVC. For those looking for a more rigid type, PVC material is the best choice. For those with latex allergy, red rubber is not a good option, but silicone is. Some catheters come already pre-lubricated. This might be a surgical lube (relatively stickier) or hydrophilic (water based).
Catheter Tips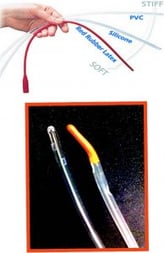 There are 2 kinds of tips: straight tips and coude tips. Straight catheters are tapered, so they can move smoothly through the urethra. Some urethras have blockages. Coude tips allow catheters to move past the blockages within the urethra. Some crude catheters come with guide stipes, which allow clearer visibility during insertion thanks to the bright color of the stripe. Coude tips may also vary: olive coude tip is slightly curved and tiemann tip has a more pronounced curve.
SAY NO TO UTIs!
Break the link between catheters and getting UTis in your head! Uriniary Tract Infections can be a pain, unless necessary precautions are taken to prevent it. Maintaining good body hygiene and using the right catheter can help you reduce or eliminate getting UTis. Did you know that, Closed System Catheters help reduce the chances of getting UTis?
Closed System Catheters
Closed system catheters (CSCs) are packaged as a sterile kit containing a collection bag, gloves, drape, and swab sticks. CSCs are designed to reduce contamination in the bladder. Most systems have an introducer tip that is inserted into the urethra first. This protects the catheter from bacteria that is found in the first 15 mm of the distal urethra, thus reducing the chances of getting UTis. CSCs are pre-lubricated which eliminates the need for additional packets. The attached collection bag allows for peace of mind while traveling, in case you cannot find a clean bathroom. Simply urinate into the system until bladder is empty, tear downwards at the perforation on the bag, pour the urine through the opening into the toilet and dispose of the bag properly. If you have had 2 or more UTIs in the last 6 months and have Medicare, you may qualify for a Closed System Catheter. Contact us to see if you qualify.
Designed for Women: Small & Discreet
Colopla

st's SpeediCath Compact for Women, commonly referred to as the "lipstick catheter," is a discreet, easy to use, and pre-lubricated catheter designed for women on the go.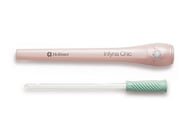 Infyna Chic™ hydrophilic intermittent catheters offer a unique combination of color, design, and small size to help blend in with a woman's life. Designed with input from clinicians to help provide a high level of discretion, it is both beautiful and easy to use. The Infyna Chic catheter can help a woman feel better about having to use one. It's available in female sizes (8Fr – 14Fr).
Compact Solutions
Coloplast's SpeediCath Compact Set is a simple design for everyday catherization available for both men and women. It's small enough to keep in a pocket or handbag, which makes the catheter one of the more popular on the market. The hydrophilic catheter comes with an attached collection bag allowing an easy everyday use both in and out of home.
Hydrophilic Catheters
A hydrophilic catheter is designed to be lubricated when moistened with water. Hydrophilic catheters have a special surface that binds water to create a lubricant that reduces the amount of irritation and abrasion when the catheter inserted into the urethra. This water-based lubricant allows for a smoother entry into the urethra with much less friction than conventional catheters, therefore causing less damage to urethra.
Your Catheter, Your Choice
On this photo find the intermittent catheters from left to right: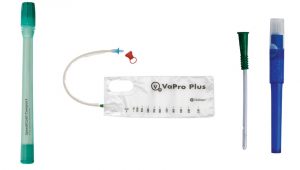 Coloplast SpeediCath Compact Male, Hollister Touch-Free VaPro Plus Hydrophilic, and Cure Twist for Females.