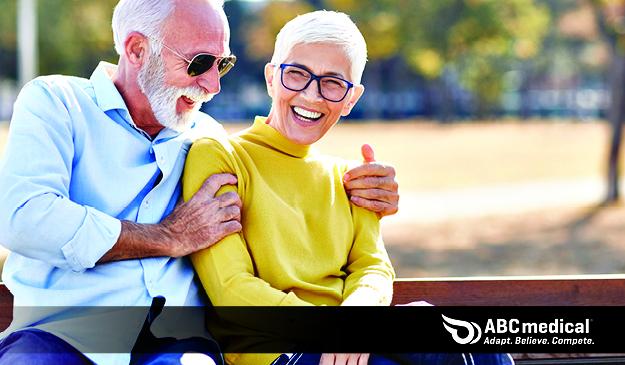 Patients with conditions that can cause urinary incontinence—such as prostate cancer, spinal cord injuries, or urological trauma—have a lot of choices to make regarding catheter use.
Should I do intermittent cathing? Or get an indwelling catheter? What's the difference? And what the heck is a French size?
From tried-and-true products to innovative designs for athletic and on-the-go lifestyles, catheter options are seemingly endless. Getting the best fit and style starts with learning the right words to describe the products you need.
So, we've put together a dictionary of common terms to help you find the right durable medical equipment (DME) products. From basic definitions to the latest innovations in device technology, consider us your go-to resource for catheter product information.
Want more information? Explore our catheter selection guide.
Basic Cathing Terms
Let's start at the beginning. A urinary catheter is a flexible tube designed to drain urine from your bladder. You or a caregiver will insert the catheter into your bladder through your urethra (the opening from which urine exits the body in your pelvic area).
There are two options to manage urinary retention: Indwelling catheters and intermittent catheters.
Indwelling catheters are inserted into the bladder and stay in place for weeks at a time. The indwelling catheter must be connected to a drainage bag, which collects urine and must be emptied throughout the day.
Intermittent catheters are disposable tubes that are inserted into the bladder several times per day to remove urine. Many people use an intermittent catheter to drain their bladder directly into the toilet. Once the bladder is empty, the intermittent catheter is removed and thrown away. No drainage bag is required for intermitted catheterization.
Standard length intermittent catheters are usually 12-14 inches long, and this is the length that men must use. There are also female length options available, which are 3-8 inches long. Female length catheters are not required for women, but some women find them easier to use and carry. Some manufacturers offer pocket-sized catheters for men and women, which are packaged and folded in a way that is easier to carry and more discreet. Pediatric catheters are also available—these are several inches shorter than standard catheters, making it easier for children and caregivers to insert.
As you start learning about life with a catheter, you'll likely come across these common terms in conversations with your healthcare provider, insurance company, or DME representative:
Catheterization:

The process of inserting a urinary catheter on your own or with help from a caregiver.

French size:

This is a standard of measurement for the width (diameter) of the catheter tube. You'll see the French size as a numeral followed by "fr", such as 10fr or 12fr.

Divide the French size by three, and that will tell you how many millimeters wide the catheter is. For example, a 12fr catheter is 4mm wide.

Many DME suppliers color-code catheters according to their French size.

Your healthcare provider will suggest an appropriate French size for your body.

Urinary drainage bag:

Also called a urine collection bag, these devices are typically used with indwelling catheters. They connect to the catheter and store urine as it drains out of your body. You'll empty the container throughout the day and in the morning when you wake up. Urine drainage bags come in two styles – a smaller, more discreet leg bag that can be worn on the leg throughout the day, and a larger-capacity drainage bag that hangs off the end of the bed at night.

Urine output:

The amount of urine your body produces in a given time. Knowing your urine output helps you choose the right size of urine collection bags (if needed) and incontinence supplies to order.
Related reading: Life with Catheter Supplies: Cleaning Your Urinary Drainage Bag
Parts of a Catheter System
Every type of catheter is made differently. Your product may not have all these parts, but you'll likely encounter these terms as you search for your preferred style:
Catheter tip:

There are two general styles of catheter tips for home use:

Straight

-

catheters with a tapered tip so they move smoothly through the urethra.

Coude'

-

catheters with a curved tip to help the catheter move past blockages (i.e., enlarged prostates, strictures, etc.) within the urethra. They may have a colored strip to help guide insertion. An olive coude tip has a slight curve while a tiemann tip has a more pronounced curve.

Funnel end:

If the catheter tip is the top, the funnel end is the bottom. The funnel end is where urine exits the tube into the collection bag or into a toilet.

Many systems have a colored funnel end, and some are designed for touch-free gripping, which means their fingers touch the funnel end instead of the catheter tube. Fun fact—in many brands, the funnel color indicates the french size.
Leur catheter ends

are designed with an open tube rather than a funnel end. Some people choose this type for the flatter grip and more discreet packaging, but the functionality is similar to the funnel end variety.




Drainage eyelets:

The eyelets are holes designed in the catheter tip to allow urine in the bladder to enter the catheter, go through the tube, and exit into the collection bag or toilet. Catheters with "polished" eyelets have smoother edges for better comfort on insertion. Your healthcare provider may recommend narrow eyelets to slow urine flow or wider eyelets to increase it.

No-Touch or Touchless systems:

These are catheters that are designed with special features that allow for the user to handle the catheter without contaminating it with their fingers. This allows for cleaner insertion.

Lubricant:

Sterile lubricant coating on the outside of a catheter helps make insertion more comfortable and reduces the risk of urethral irritation, which can cause a urinary tract infection.

Hydrophilic catheters –

come with a special polymer coating that keeps them slippery, allowing for smoother entry into the urethra that helps reduce irritation. The polymer coating is activated by water and cannot be wiped off, meaning the catheter stays slippery during the entire catheterization process. No additional lubricant is required. These catheters are ready to use and can be convenient for travelling or adventuring.

Pre-lubricated catheters (gel) -

come coated on the outside with a sterile gel lubricant for easier insertion. If your catheters don't come pre-lubricated, you'll want to buy a sterile lubricant gel to apply before insertion.

Extension tubing:

These are tubes that are needed to connect an indwelling catheter to a leg bag or bedside drainage bag for urine collection. They are also sometimes used with intermittent catheters if reaching the toilet is difficult, as the tubing can provide additional "reach".
Types of Catheters
In the past few years, innovative technology has given patients a wide range of catheter styles, functionalities, and sizes to choose from. You can try different products to see what feels the most comfortable and works best for your lifestyle.* Explore our selection of catheters.
Here are some of the most common types of catheters you'll encounter as you browse your options:
Intermittent catheterization:

Clients insert a single-use catheter several times a day to empty the bladder, then remove the catheter as soon as the urine is drained into a collection bag or the toilet.

Indwelling catheter or Foley catheter:

This type of catheter is inserted into the bladder and held in place by small balloon at the tip of the catheter. The balloon is inflated with sterile water once it is inside of the bladder, which keeps the catheter from slipping out. This type of catheter must be used with a drainage bag, as urine will continually drain out of the body. Indwelling catheters are typically replaced once per month.

Closed system catheters:

CSCs are a type of intermittent catheter. They are packaged as a sterile kit that contains a collection bag and pre-lubricated or hydrophilic catheter tubing. Sometimes they also include gloves, a drape, and antiseptic swab sticks or wipes. The goal is to reduce bacterial contamination in order to lower the risk of a urinary tract infection. Medicare may cover CSCs if you have recurrent UTIs or a compromised immune system. Contact us to learn whether you qualify based on your medical history and insurance coverage.

External male catheter:

Also called a condom catheter, this design fits over the penis and connects through tubing to a collection bag worn on the leg. External male catheters are only used to contain urine leakage, not as a solution for urinary retention. An external catheter cannot empty the bladder like an indwelling or intermittent catheter, but it may help keep you dry if you experience leakage.

Suprapubic catheterization or suprapubic tube:

Some individuals with indwelling catheters may prefer a suprapubic insertion site. A doctor will make a small opening on the lower abdomen right above the bladder. The catheter is inserted through this opening instead of the urethra. This gets the catheter out of the genital area and may be a good option for people who are sexually active. Like most indwelling catheters, the tube is changed out monthly.
Knowledge is power, especially when it comes to your urological health. While learning a whole new DME language is challenging, your mastery of common catheterization terms will help streamline your product ordering process and give you back that time to do what you love.
Feeling overwhelmed with choices?
Expert support is just a call away.
Fill out the form or call 866-881-0065.
Disclaimer: This content is not intended to be a substitute for professional medical advice, diagnosis, or treatment. For medical advice, please speak with your healthcare provider.
---
Sources: ABC Medical site content; Bladder and Bowel; SUNA.org [PDF]