Original article was published on Mpower Sports and Recreation on September 27th, 2016
The 2016 Rio Paralympic Games are over. We are slowly waking up from a beautiful dream that lasted for two weeks. As I am about to onboard my flight from Rio de Janeiro to head back to the United States.
I feel bittersweet.
As I desperately search for familiar faces wearing the green/ yellow volunteer t-shirts or the shiny Olympic pins on a media badge for a potential pin exchange, which without a doubt was my favorite tradition at the games, I realize I am slowly heading back to reality, the routine of everyday life and I am terrified.
While I am looking forward to telling everyone so many amazing stories from the Games and sharing unforgettable moments, I think I am already missing the warm-hearted Cariocans and the beautiful city of Rio de Janeiro that all made the "Paralympic Dream" a reality for so many, including for myself.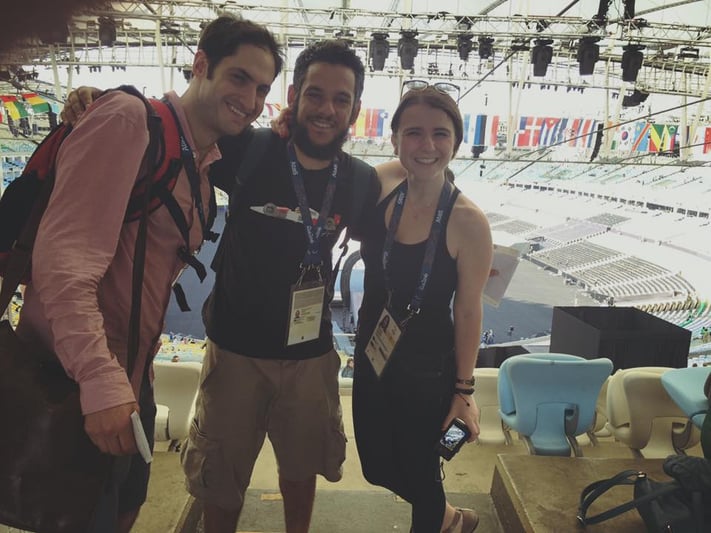 Mpower Sports proud team of volunteer journalists in Rio included Eli Wolff, the co-director of the Inclusive Sports Project, Gabriel Mayr, Instituational Relations Manager of Urece and ABC Medical's Işıl Tanyeri
Closing Ceremonies of the 2016 Rio Paralympic Games
Having met numerous people including volunteers, journalists and spectators, I came to realize that going to the Olympic or Paralympic games and the strong desire to be a part of the experience is not exclusive to athletes. For instance, I met Marcos, the Brazilian volunteer, who wanted to honor his grandfather with paralysis, by helping out at the Aquatics Center for swim events. Shah, a post-graduate student from Pakistan said he had been dreaming of the moment he travels to Rio, because he has always wanted to create adaptive sports opportunities in Pakistan for people with disabilities. Carlos Rizki, founder of Adaptado Sports organization in Venezuela and a journalist at the Paralympic Games has also been dreaming of this special moment since he was a little kid, because his mother is one of Venezuela's big time Paralympic weight-lifters. The Rio Paralympic Games was a dream come true for him and that he would certainly be back next time.

Carlos Rizki, Founder of the Adaptado Sports from Venezuela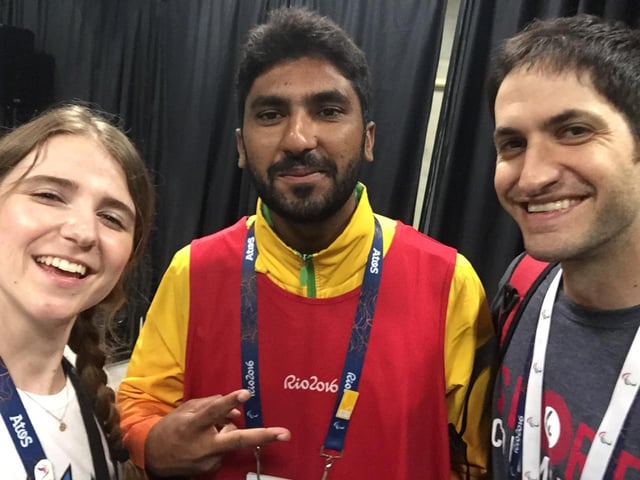 Shah and Mpower Sports team (myself, Işıl Tanyeri and Eli Wolff) post-interview
It was probably the Chinese volunteer's story that inspired me the most and made me sit at the airport and type this essay vigorously to wrap up my journey at the Paralympic Games.
Shuyun Hu decided to quit her job to travel all the way to Rio de Janeiro from Shanghai and work as a volunteer at the Paralympic Games. "It was my dream as a kid to be part of the Paralympic experience" she shared. "Now, it feels like it is my golden medal moment on the podium, even though I am not an athlete."
That was it!
The Dream of the Gold Medal moment is universal and encompasses all segments of the society.
What all these people have in common with the athletes I've had the honor to meet is that they dreamed about this experience for a long time and created their own version of the gold medal moment in their lives. They made the Paralympic Games a mission and they worked hard to make it happen. I don't think many people would be able to say the same about the Olympic Games. Am I wrong?
While this article is about dreaming of the gold medal moments in our lives, the focus will be on the Paralympic Athletes, the real stars of the show from whom we can learn so much about life, sacrifice and achievements.
US Paralympic Women's Wheelchair Basketball Team Defeats Germany in the Championship Game and Claims Gold Medal
The US Paralympic Men's Wheelchair Basketball on the gold medal podium at the victory ceremonies
As the US Paralympic Women's and Men's wheelchair basketball teams both gloriously won gold medals at the Rio Paralympic Games, we got a chance to talk to some of our athletes what it took for them to achieve their dream of the gold medal moment.
"To achieve your dream, you must be in love with what you do" said Dave Kiley, aka DK, owner of 13 Paralympic Medals (9 gold) and 2012 Head Coach of the U.S, Paralympic Women's Wheelchair Basketball Team.
That's the golden rule of success in every aspect of life, but especially when it comes to winning a gold medal as a Paralympic athlete. Many athletes we have spoken to at the games fell in love with their sport when they were very young.
Jared Arambula of Valparaiso, Indiana was 5 years when I tried wheelchair basketball for the first time. "I fell in love with it immediately. I wanted to play something that made me equal to my friends and I wanted to play a contact sport. As I grew older it just clicked. As soon as I heard there was Paralympics, a chance to win gold medal and a chance to be on a gold medal team, I knew I had to be part of that. Since I was 5, it's been my dream for my whole life" shared Arambula, a first time parlympian of the US Paralympic Men's Wheelchair Basketball team.
For Aaron Gouge of Dallas, TX, wheelchair basketball was love at first sight. "I've always been super competitive with everything I do. When I found wheelchair basketball, it felt perfect" he said.

Jared Arambula and Aaron Gouge on the podium celebrating their gold medal moment
Sacrifice is an important part of the journey towards the gold medal moment dream. "It means taking the road less traveled" described two-time paralympian Ian Lynch of Brooklyn Park, MN . Accepting to sacrifice something takes a lot of courage by itself, but to stay committed to it is a far greater challenge and requires a lot of self-discipline. Time away from home, family, friends and work are all part of that challenge.

Mike Paye, Steve Serio and Ian Lynch
Abby Dunkin and Rose Hollermann
From the U.S. Paralympic Women's Wheelchair Basketball, student-athletes at the University of Texas- Arlington, Rose Hollermann and Abby Dunkin shared what they had to sacrifice to be at the games this year. "We've been away from school for a while and missed a lot of classes. We will definitely have a lot of material to catch up with when we go back, but we are grateful that our teachers and school administration have been very supportive of our mission here!" shared two-time paralympian Hollerman of Elysian, MN.
For Steve Serio, the co-captain from Brooklyn, NY, sacrifice is everything his family has done for him.
"They are the people who drove me to tournaments when I was 15-16 years old even though they were hours away. They are the ones who never said 'no' when I needed practice. They are the ones who always supported me when I wanted to go to university far away from New York and move to Germany. They are the reason I can do what I'm doing here. They're my backbone in everything I do." Serio shared.
Steve Serio's gold medal moment
Dreaming of the gold medal moment also means understanding the long journey that takes you there. As Ian Lynch said, "It is not about being here on the podium. It is about the whole journey." That journey has its many ups and downs. Knowing how to bounce back from failure and learning from your mistakes is as important as winning your game.
"For me, getting 4th place in Beijing was difficult. Getting 3rd place in London was an important stepping stone for our program, proving we belong to the podium" co-captain Serio shared. "This gold medal represents that whole journey and not just this one game. You need to fail to grow as a person. I am very thankful for those losses because it made me who I am today," added Steve.
Part of that journey involves taking necessary steps to help you come closer to your dream of the gold medal moment.
For Aaron Gouge, who has been playing for the team since Athens 2004, it has been a long and steep road. Gouge played in the collegiate level at the University of Texas-Arlington (UTA), then he played with Dallas Mavericks, then went to play in Europe. "Each game and tournament you play helps you become a better athlete" he shared. From attending summer camps to enrolling in a strong college program, creating opportunities for oneself to help become stronger and better is an important part of your dream journey.
As the legendary wheelchair basketball player and former Paralympic athlete Dave Kiley said in a recent interview: "There is no short cut to gold medal!"
Last but not least, the importance of surrounding yourself with a strong support system is essential in the journey toward gold medal moment. While athletes make the impossible possible on the court through hard work, determination and sacrifice, they do not take for granted the support they receive from those around them including family, friends, assistant coaching staff, and the private organizations that support them.
Ian Lynch thanked his kids that play wheelchair basketball for sending him messages all week long. "My phone is going wild with all the messages now! The same way we hold each other up on the court, it's the same way with all the people back in the USA!" he shared.
Rose Hollerman said she was dedicatng her medal to her parents. "They are the biggest support system throughout my entire wheelchair basketball career. They are the ones who kept pushing me and helped me get to this point" she said.
Rose Hollermann
Two-time paralympian Desiree Miller of Monroe, Washington gave a shout out to Dick's Sporting Goods where she works as a Team Sport Associate for showing a lot of support to her entire journey.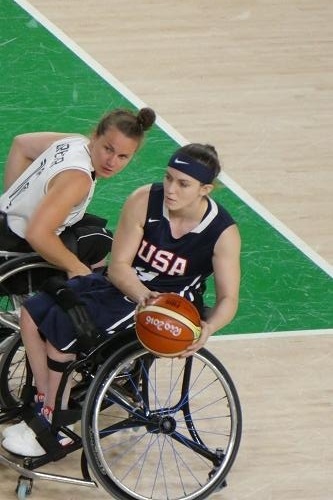 Abby Dunkin, a first-timer at the Paralympic Games thanked the assistant coaching staff and the team psychologist for their "tremendous help in creating a strong chemistry within the team."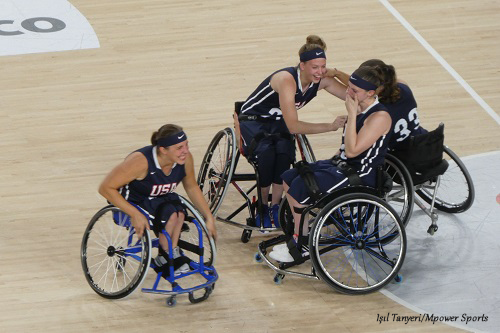 "What do they wish the spectator take away from the Rio Games?," we asked the athletes.
"That we are ALL athletes playing competitive sports and not just a disabled person" Desiree answered.
If there is one thing that the Rio 2016 Paralympic Games achieved among spectators this year is that the perception of the Paralympic athlete has significantly changed and created many new Paralympic sports fans.
One example is Manoel, a resident of Rio: "I was not expecting the Paralympic Games to be this intense and fun to watch. I think I prefer the Paralympics to Olympics now, because it is more interesting!" he shared. His comments reminded me of the short interview we did with Daniel, the bus driver at the Olympic Park on our first day at the Games, which was shared on Facebook. He told the story behind the word "fan" in Brazilian Portuguese: Doise Torcedor:
"Ladies who used to watch the talented and good looking Brazilian football players wearing shorts and scoring goals would go crazy about them and would twist and turn," hence the birth of the word "fan" in Portuguese. Click here to watch the video on Mpower Sports' facebook page.
Without a doubt, the Paralympic athletes in Rio created a lot of new Doise Torcedors this year and will continue to create in the upcoming years as the Paralympic spirit shall continue. At least that is one dedicated volunteer's wish out of the Rio Games. Marcos, a volunteer at the Paralympic Games whom we met on the subway shared the following:
"I hope the Paralympic Games spirit continues all year long and never stops, because it has brought peace, unity and happiness to the world."
Dear Marcos, if you ever read this article, hear our words:
Don't worry, it will continue! To everyone who was a part of it, will continue the spirit, as long as we continue to dream of the next gold medal moment of our lives.
Marcos and other volunteers are in carnival spirit on the last day of the Paralympic Games.
Thank you to Rio De Janeiro, thank you Paralympic athletes and thank you fans for an unforgettable Paralympics Games experience and making the gold medal moment dreams of our lives come true. Muito obrigada Brasil! See you all in Tokyo 2020! Keep dreaming big. #BuildYourDream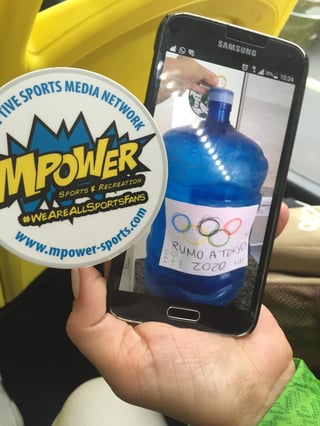 A volunteer showing us a picture of her coin collection home to save up for Tokyo 2020
---
Wanna see more photos from the Paralympic Games?
Click here to download the Rio 2016 Paralympic Games Photo Book*
---
The Paralympic Games have inspired us. We have been working on an exciting new project to create opportunities for student-athletes with a disability to play sports. Learn more about our Seeds Of Hope Initiative.

*Special thanks to Mpower Sports & Recreation for granting us authorization to use the photos. Click here to visit Mpower's website.