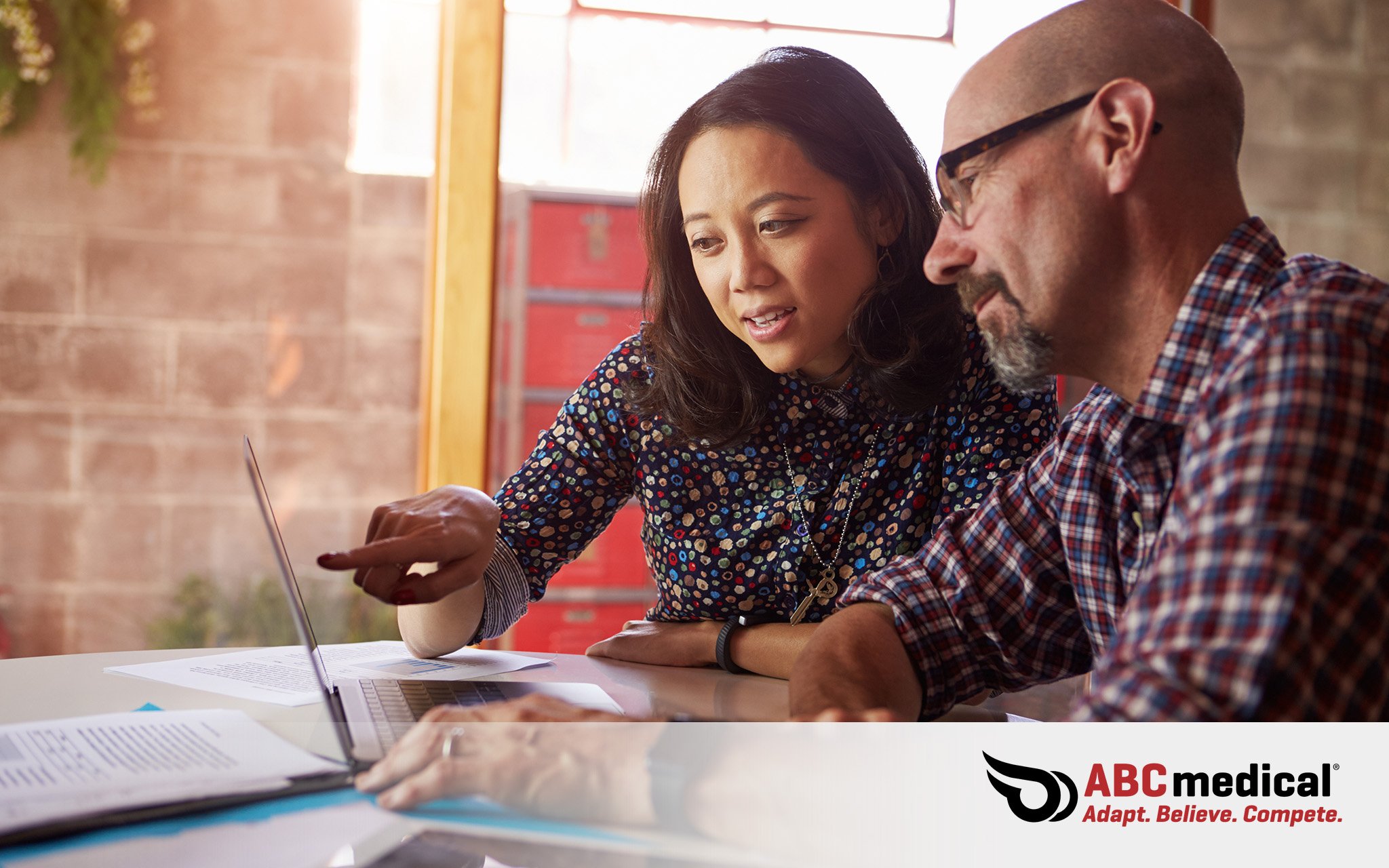 If you have had ostomy surgery, you may be wondering, or even concerned, about what it will be like to return to work with a stoma. Take heart in knowing that many people successfully work with an ostomy. There is a good chance you have met someone who is doing just that – you just didn't realize they had a stoma. People with stomas work in every type of job imaginable, from offices to hospitals, to construction sites to public transportation. With a little planning and the proper supplies, the vast majority of workers should be able to confidently return to the job and resume their usual activities.
Before returning to work, give your body time to heal from surgery. Ask your surgeon how much time off you should take for rest and recovery. If you work a physical job, you may need more time to recover. It also might be helpful to introduce activities into your routine during the recovery process before you return to work. Taking walks or incorporating gentle exercise routines can accustom your body to movement and different positions. This is also a great way to see how well your ostomy supplies perform, and if they meet the demands of physical activity.
What to Say
Work colleagues may be curious about why you've been away from work. If they know you were in the hospital, they will likely ask questions about it. Deciding in advance how much or how little you are comfortable sharing with coworkers can be a helpful exercise. You can tell them about the ostomy, or you can choose to keep it private. If choosing to keep it private, one suggestion is to simply tell people you've undergone abdominal surgery but are doing much better now.
The Importance of Good Ostomy Supplies
Having the right products for your body and stoma is the most important aspect of successfully managing your stoma. The goal is to have a barrier that lasts without any leakage from 3-5 days. Your skin should be healthy, and you should feel confident that your product is holding up until you are ready for your next change. If this is not your experience, you likely need to be fitted for different ostomy supplies. Many people do not realize how many types and styles of products are available. At ABC Medical, there is an ostomy nurse on staff to assist with finding the ideal product for your body and lifestyle. If you have any questions about returning to work with an ostomy or feel that your products are not reliable, contact ABC Medical and ask to speak with the ostomy nurse. The ostomy nurse can make individualized product recommendations and send free samples to try so you can find the ideal product before returning to work.
Make a Kit
Make an ostomy supplies kit to take with you to the job. You can use a small backpack or purse for this purpose. This kit should have everything you need to change your pouch, an extra pouch, and spare shirt. While you should not have to change your ostomy appliance at work, you will want to have a back-up in case something happens. Make sure not to leave this kit in your car, as heat and cold can degrade the adhesive over time. If you are concerned about odors when emptying the pouch, you can obtain a deodorizer spray and keep it in the kit.
Work Clothing
You may be concerned that your pouch is visible under clothing. Before returning to work, you may want to experiment with different styles and cuts of clothing to see what works best. Your body and the stoma's location is unique, so trying on clothing first before purchasing is recommended. Individuals with stomas may find that stretch-style pants or skirts with a flexible waistline work well. There are a number of "yoga pant" style professional pants on the market that are made to look like professional pants but with a soft, conforming waistband. An undershirt or tube top over the ostomy appliance can help secure it to the body and smooth your profile.
Another option is to wear a wrap-style belt. These belts are designed to hide the pouch and keep it close to your body. You can look at standard ostomy wrap belts here: https://www.comfortbelt.com. For individuals with active lifestyles, Stealth Belt makes athletic-style belts: https://www.stealthbelt.com.
If you do heavy lifting on the job, you may want to obtain an abdominal support belt to reduce your risk of hernia and provide firm support for the ostomy appliance. Hernias are not uncommon after ostomy surgery. Abdominal support belts also work well to support and minimize an existing hernia. You can look at abdominal support belts here: https://nu-hope.com and here: https://www.coloplast.us/about-us/coloplast_samples/brava-ostomy-support-belt.
There are also undergarments designed specifically for people with ostomies. These contain pouches sewn into the clothing to conceal the ostomy appliance. Ostomy Secrets is a brand invented by an ostomate for ostomates with a full line of ostomy-modified clothing options. You can look at Ostomy Secrets here: https://www.ostomysecrets.com.
Noises and Odors
It is understandable to be concerned about embarrassing noises or odors from having an ostomy. While these things can be embarrassing, try to keep in mind that everyone's body makes noises or odors, stoma or not. If your stoma makes noises when passing gas, try using your arm to muffle the noise when it happens. You will also find that many stoma noises are much less loud to others than they are to you. You can also try identifying gas-producing foods and avoid them during your workday. If you are concerned about splashing noises when emptying the pouch into the toilet, try putting a few layers of toilet paper on top of the toilet water in the bowl first. This can reduce splashing and associated noises. If odor is a concern, try a room deodorizer spray. A few sprays before emptying the pouch can significantly reduce odor.
Your Rights
You get to decide who to tell about your ostomy surgery. You may want to tell your boss or coworkers, or you may prefer to keep it private. If you need to take breaks to empty your pouch, or there are certain activities you would prefer to avoid, it may make sense to let your workplace know about your stoma. Any form of discrimination regarding your stoma is illegal on the job site. Individuals with ostomies are protected under the Americans with Disabilities Act or ADA. According to the ADA, an ostomy is considered a physical impairment that affects any activity of daily living and requires a prosthetic to replace the function of a body part. Being fired, mistreated, or paid less because you have an ostomy is not permitted if an individual is able to meet the pre-determined qualifications of their job. Most states also have laws to protect individuals from workplace discrimination due to a medical condition. You can find out more about antidiscrimination laws and resources to address discrimination here: https://www.ostomy.org/wp-content/uploads/2021/12/Workplace_Discrimination_Resource_2021_Update.pdf
Summary
Working with an ostomy is not only possible, but common. While anything new is scary at first, in time you will become comfortable with your stoma. There are many products and accessory items that can make your daily routine easier with an ostomy. Using a quality medical supply company such as ABC Medical can be helpful, as they carry hundreds of ostomy supplies from leading brands. ABC Medical will ship your supplies directly to your door and take care of all the paperwork required to get your insurance to cover the items. One thing that sets ABC Medical apart is access to an experienced ostomy nurse from the convenience of your home. If you have questions or concerns about going to work with your ostomy, help is just a phone call away – 866-897-8588.
Disclaimer: This content is not intended to be a substitute for professional medical advice, diagnosis, or treatment. For medical advice, please speak with your healthcare provider.