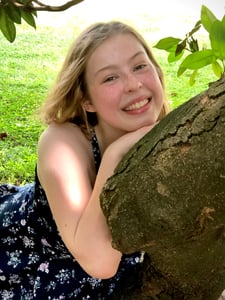 Meet Hannah, a 17-year-old wheelchair basketball athlete from Henrico, Virginia who aspires to become a Special Education teacher. She is the recipient of the Fall 2020 Adaptive Sports Scholarship award from ABCmedical.
Born with Spina bifida, a birth defect that caused partial paralysis and rendered her unable to walk, Hannah got her first wheelchair at age 6 and quickly learned how to master it. Her parents found a local wheelchair basketball team in their area and signed her up right away to play the game she eventually fell in love with. After she aged out of that program, she joined Sportable, a local Adaptive sports organization in Virginia, where she participates in several sports and volunteers as the Assistant coach for elementary-aged children.
Sportable Director of Programs, Forrest Lodge had this to say about Hannah. He said,
"Oftentimes sports can be used as a vehicle for change. I know firsthand that Hannah has experienced this in her own life, but what has been amazing to see is how she has used that power to impact others through sports as well.
For one of her academic all-American projects from the NWBA, Hannah organized a wheelchair basketball clinic for people who are hearing impaired to try out the sport she loves. Hannah first learned American sign language to be able to communicate with one of her teammates who is Deaf. She fell in love with the language and the people and is now a co-president of an ASL club at her local community college where is dual-enrolled.
I believe that Hannah is an ideal candidate to receive a scholarship from ABCmedical. Her love for the game, her eagerness to give back, and her commitment to being the best teammate, player, and person are just some of the reasons why she should be awarded this scholarship opportunity."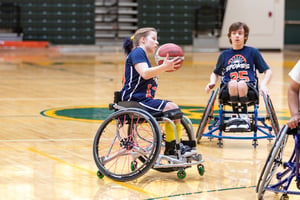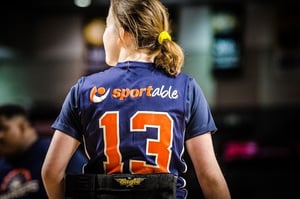 When asked what the ABCmedical motto Adapt.Believe.Compete. means to her, Hannah answered
"To me, it means I adapt to challenges and seize every opportunity I am offered and believe in God and myself. Those things influence my attitude and the way I compete at the highest level in every aspect of life."
Hannah plans to use the ABCmedical scholarship to offset the cost of attending an out-of-state school to pursue her dream of getting a Special Education degree while playing wheelchair basketball at the collegiate level. Hannah is set to attend the
University of Wisconsin-Whitewater
in Fall 2021.
In an interview, she said
"If you had told me that someday I'd be offered a spot on a women's collegiate wheelchair basketball team, that I'd be getting a degree in elementary and adaptive education, that I'd be living independently 14 hours from my family, and that I'd have multiple scholarships to do all this, I would have said you were crazy!"
Outside of basketball, Hannah's passion is working with children and helping them learn. This scholarship will help her gain the skills needed to have a successful career in Special education and continue to play the sport she loves. You can follow her journey on Instagram by following her page hannah_spokes13 or click the link here.