The University of Alabama played two games on Saturday, December 3rd at the Top End Invitational at Shelton State Community College. The women played the first game at noon against the ABC Medical Crimson Stars. It was an aggressive battle, but the Crimson Stars came out victorious with a 67 to 53 win. At 6, the Alabama men played the Lakeshore Storm in a game that kept the crowd on the edge of their seats. After trading baskets for most of the game, the Alabama men ended the game with just a three point lead over the Storm. The final score of the men's game was 55 to 52.
With this tournament, the University of Alabama is excited to start what will be a new annual tradition from now on.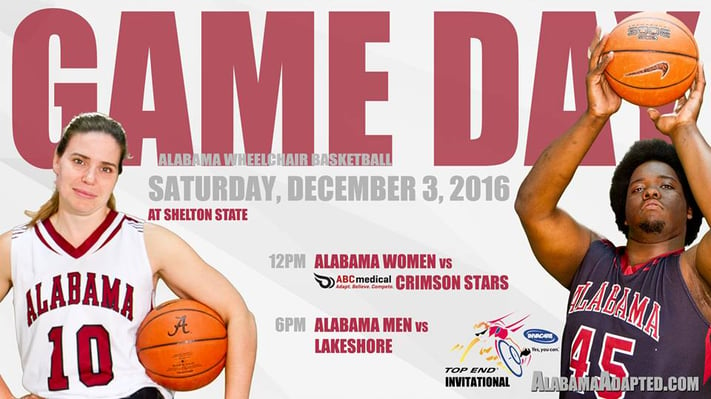 Due to the gap we see in women's wheelchair basketball teams in the country, Dr. Brent Hardin and ABC Medical's CEO Keith Jones who is a huge fan of University of Alabama decided to put together a team made up of past Alabama players - The ABC Medical Crimson Stars. The alumni team had 6 players this year from the 2015 National Championship winning team; 2 of which also went to the Paralympics this year for their national team.
The players are: Karolina Lingyte, Elissa (Mouse) Robinson, Caitlin (Bo) McDermott, Savannah Gardner, Cindy Oulette (Team Canada), and Mackenzie Soldan (Team USA). The team is lead by Dr. Margaret Stran, a 3- time Paralympian and 2-time Paralympic coach for Team USA. When asked about the Crimson Stars, Dr. Hardin stated, "It is wonderful to be able to have these alumni back on campus and to give them a chance to do what they love. With it being the Paralympic Games year, it has been rather hard getting games for the women's team. In putting this team together, we have been able to make everyone happy; the girls get more games and alumni have a chance to play together again. We look forward to partnering with ABC Medical to keep this going for many years to come."
The Crimson Stars played their first game together on Saturday, December 3rd against the Alabama women. It was an aggressive battle, and the Crimson Stars came out victorious with a 67 to 53 win over Alabama.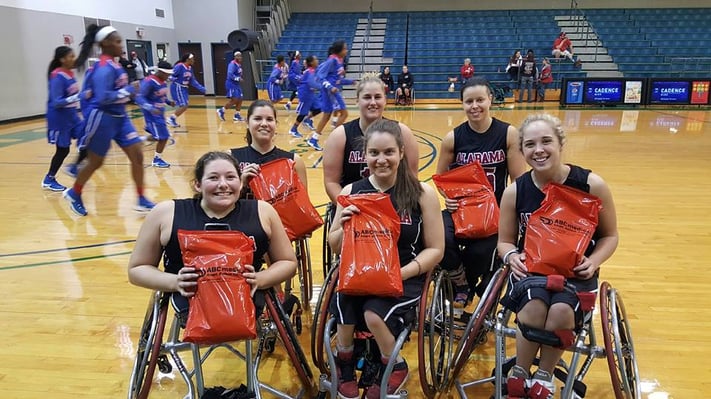 Alabama Women's Wheelchair Basketball Team
Download your Rio 2016 Paralympic Games Photo Book and check out photos of Team USA, including Alabama students!