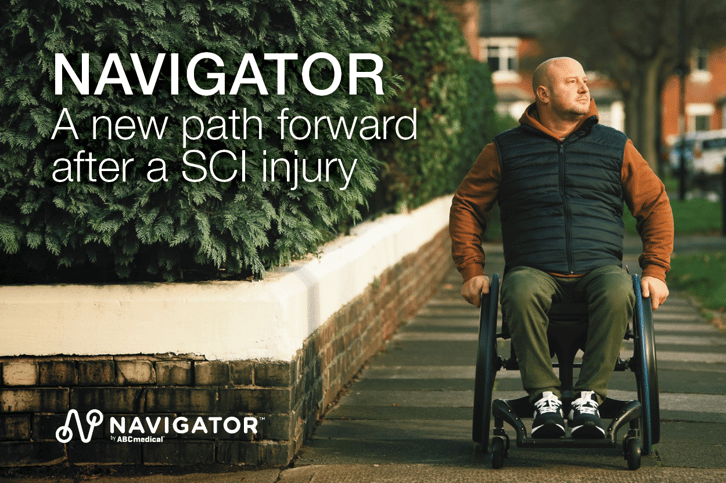 There is no question your life will change after a spinal cord injury (SCI). While slight fluctuations in body temperature throughout the day are normal, a person with a spinal cord injury may have difficulty staying warm when the temperature drops. Individuals with a SCI may have reduced sensitivity to changes in heat or cold especially if they have poor circulation or a lack of sensation below the level of injury.
Here are 10 tips and tricks to stay warm when the temperature drops (or anytime).
Layer clothing–

Start with a base layer that is polyester or silk.

Layer with additional clothing that you can put on or take off as needed.

Adding an air layer in-between is also helpful.

Wearing a loose-fitting coat over your shirt adds extra warmth without adding weight or bulkiness.

Make sure the layers are not going to catch in the wheelchair.




Wear silk instead of cotton – When fabric becomes wet, it holds the cold next to your body. Silk and polyester are better than cotton for wicking away moisture, such as sweat, from your body.


Consider heated clothing – Many battery-operated clothes, including socks, vests, and gloves, are on the market today. Avoid using these devices against any skin that has decreased or no sensation.


Wear mittens instead of gloves – While gloves can be more functional, mittens allow your fingers to warm each other and share heat.


Add a hat – Uncovered heads lose heat quickly. Wear a material such as polyester that will trap the heat. If you become cold, your body will redirect blood flow from your fingers and toes to keep the heart and brain warm.


Drink warm beverages – Warm beverages such as herbal tea or hot chocolate heat your body from inside out.


Enjoy a cup of soup – Similar to warm beverages, a cup of soup not only warms your body from inside out, but also hydrates you.


Keep your feet warm – When heading outdoors, ensure you have appropriate shoes for the weather. If it is raining, you should wear waterproof shoes or boots. In cold weather, consider putting on taller boots to provide additional warmth to lower legs. Remember that wheelchair footrests are often metal, so wearing something greater than a sock in between your feet and the metal is important. Metal cools quickly and you risk frostbite in freezing weather.


Move your body – Activity raises your body temperature. Find an activity that you enjoy even if it is just for a few moments at a time. Try dancing to your favorite song, walking in an indoor mall or other to increase your distance, or joining an online exercise class. Many new adapted exercises classes have started recently; if the first one you try is not a good fit, continue to look for another one.


Have a good laugh – Laughter creates physical exertion. Connect with a friend in person, by phone, or on a video call. This will not only improve your body temperature, but it will boost your immunity.
The outcomes of every spinal cord injury are unique, and some people will struggle with body temperature regulation more than others. Consult with your doctor to determine ideal management interventions for your specific spinal cord injury.
Whether an individual is just setting out on his/her return to life after an SCI or simply looking for advice on an everyday topic, Navigator Patient Support Service from ABC Medical offers comprehensive services.
Set a Course for Getting Back to Life.
If you have questions for us or if there is anything we can help with, let us know. We want to help.
Please, never hesitate to reach out!
--
The Navigator Team
Ph: 855.774.6631
Email: navigator@abc-med.com
Visit: www.kmtnavigator.com