Congratulations to our youngest scholarship recipient of Fall 2016 session, Julia Palyok!
Julia is nine years old and lives in West Columbia, SC with her family. She was born with Spina Bifida. She has a boxer, named Frazer. He is "crazy"! Julia enjoys swimming, archery and baseball. She also plays wheelchair basketball and competes in track and field. Julia travels to Charlotte, NC every weekend with her parents for wheelchair basketball practice and track and field.
In her spare time, she likes to play Call of Duty on the X-box with her dad and spend time with her friends. She enjoys drawing and singing. Julia is a fan of kareoke. " I LOVE KAREOKE! I like to sing by myself in front of everyone and don't mind if other people sing with me as long as they know the words!" Julia just got a new day chair back in July. Check out the picture below with Julia in her brand new chair!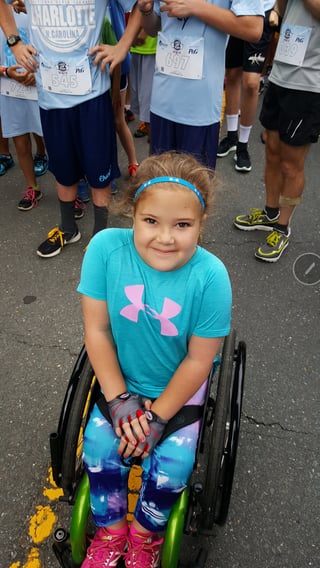 Julia's Adapt.Believe.Compete. story
"There are some things that I can't do that my friends can do. They can run around and I can't walk. But I can do things they can't do too. I can do wheelies in my chair. I do play sports and it's against kids who are just like me, kids who can't walk. We have fun playing on a team together. Even though we are in chairs, we are still playing sports and competing against other teams. Winning is nice but I like to be able to do things that my friends can do too. That's what it means.
I would use the scholarship to get a new chair for my basketball team. The basketball chair I use now is way too big. I think it is made for an adult, but it was all they had to use. It is hard for me to push fast because I can not reach the wheels too well. My team made the National Tournament this year and did very well and had a lot of fun. I was a little nervous at first playing because people would crash into me and they would go fast down the court. I think with a smaller chair that was more comfortable, I would be able to move around better and not feel so nervous. By having a new chair that fit me, I would be able to train more and go with them to more tournaments, too. Once I am able to get a new basketball chair, I am going to donate the one I have now to the team so another bigger kid will be able to play basketball like me.
Looking for a reliable new sports chair and a medical supply company that understand your medical needs as an adaptive athlete?