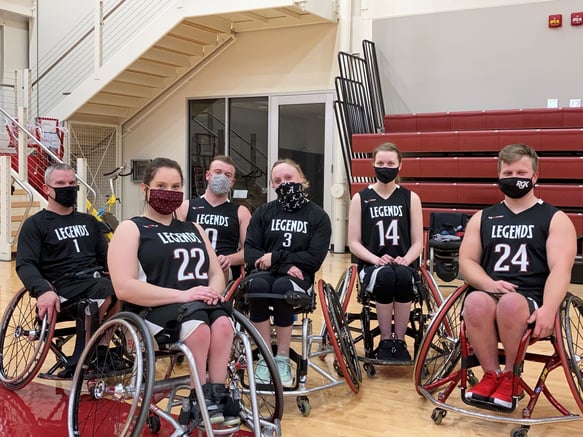 The Adult Division Executive Committee of the National Wheelchair Basketball Association (NWBA) has announced the 2021-22 February Power Rankings for Adult Division I, Adult Division II and Adult Division III. These are the third set of power rankings released for the Adult Division in the 2021-22 NWBA season.
The final set of rankings, that will serve as seedings for national tournaments, will be published on Tuesday, March 22.
The ABC Medical Legends have received a national ranking of six in Division II (DII) of the NWBA. The team is currently waiting for an official invitation to the 2022 NWBA Toyota National Wheelchair Basketball Championship Tournament, taking place March 31st-April 2nd in Wichita, KS.
Last year, the Legends placed second in DII and are optimistic about placing within the top three this year. The COVID pandemic prevented most teams from having the ability to safely practice and travel last year. Leading up to the event, the NWBA has expressed their excitement to have the numbers that they are used to seeing pre-pandemic. They expect at least 1,000 athletes to compete.

Regional Sales Managers, Zachary Tierney and Zachary Moore, are thrilled to representing ABC Medical at the 2022 NWBA Toyota National Championship Series presented by ABC Medical. They will be joined by Marketing Coordinator, Brittany Gustafson, who plays for the Legends.
Click here to learn more and stay tuned for more updates!