Congratulations to Lindsey McGlinch, who won the
Spinergy Wheels
prize in the Build Your Dream Raffle! We met up with Lindsey to learn more about her and her dreams. Check out her story below: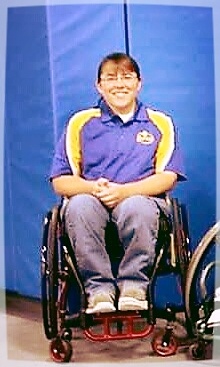 Lindsey McGlinch is from Greenville, OH. She was injured in a car accident 20 years ago. She is currently working as a school nurse at a public high school.
Just like most PER4MAXers out there, she's an adaptive sports enthusiast and has tried many different sports, but found her passion in wheelchair basketball. She got involved six years ago, when she saw her current team Miami Valley Raptors doing an exhibition game at an expo. "
As soon as their game was over, I went up to them and asked what I had to do to try out for the team.
Surprized by my question, they kind of all laughed and said, "Well, just show up to the next practice and you'll be part of the team!" That's what exactly Lindsey did. She was at their next practice, as well as others for over three seaons. The game truly became a big part of her life."


Lindsey McGlinch attended UTA to receive her Bachelor's Degree in Nursing and played for the Women's Wheelchair Basketball Team
Just like any adaptive sport athlete, wheelchair basketball has opened up so many doors for Lindsey. I have been able to travel all over the country meeting and competing against great athletes. It allowed me the opportunity to attend the University of Texas Arlington and play for the Lady Movin Mavs." said Lindsey in our interview.
After a season with the Lady Mavs and graduating with a Bachelor's Degree in Nursing from UTA, I returned home. I have been playing with Raptors ever since.
"I think anything is possible, as long as I am willing to work hard, no matter what challenges I may be facing." That to me is "to Build My Dream."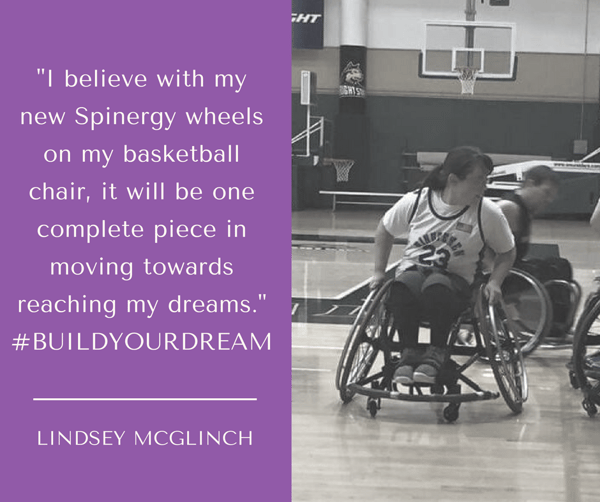 When I saw the ads to the Build Your campaign on the Per4Max facebook page, I thought 'why not and submitted my entry to win either a custom made PER4MAX Thunder chair
or Spinergy wheels. No idea, I would have won the latter!!!
Lindsey's DREAM is to raise my game to the next level. said Linsey.
"My advice to kids is to never let anyone tell you, you can't do something. Anything is possible as long as you are willing to work hard for it.
My favorite quote from Jim Valvano is "Don't give up, don't ever give up."