Some of you might remember the time when we ran a photo contest, but most of you probably won't! Back in 2014, we decided to organize a photo contest with the theme, Adapt.Believe.Compete., ABC Medical's tagline, in partnership with our friend Ather Sharif from SCI Video Blog.
Why? Well, why not! But, we had a pretty good reason to do it. As you know, we work with thousands of adaptive athletes across the country, who adapt. believe and compete on a daily basis. We wanted to share a snippet of their lives through photos, because as we all know, "an image is worth a 1,000 words!"
It turned out to be an awesome idea, as we soon started receiving hundreds of submissions from all across the world. Among all the awesome photo submissions, two of them particularly caught our attention. To our surprise, both photos belonged to the same contestant: Melissa Allensworth from California.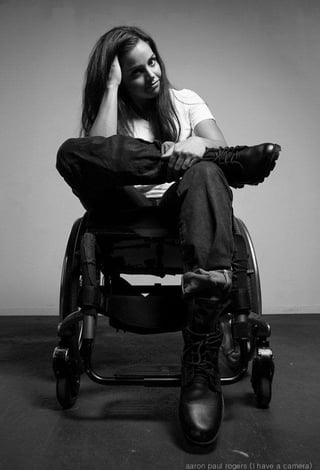 We reached out to Melissa to congratulate and to ask her some questions, as we were super curious about the story behind the photos and about Melissa herself, the narrrator and protagonist in these epic visual stories. Check out Melissa Allensworth's story below, which she shared with us in 2014. A lot must have changed since then. Perhaps time for a second round! :)
Melissa Allensworth is already wondering what and where her next adventure will be. A 34 year-old, certified scuba diver, Melissa was injured in 2008 in a tragic roll over truck accident while drunk driving. It took her a couple years to recover from the accident and "start enjoying life again." She works with the Triumph Foundation, a non-profit organization that helps individuals with Spinal Cord Injuries "triumph over their disability." Melissa is responsible for social media, updating the blog and helping out recently injured individuals in support groups in the area.
Story behind the First Photo: In 2010, Melissa found out about the adaptive adventures program, a 4-day camping trip in Canada hosted by the Live it! Love it! Foundation. "On the program ad, I saw a picture of a girl bungee jumping. I was like 'if that girl can do it, I can do it too!' It's funny because before my injury, I would have never imagined myself doing something like that!" Soon enough, she found herself jumping off of a 160 ft. bridge on the second day of the camp. "The feel within a split second of fear turned into something so peaceful when I jumped." She says that the adventure camp really changed her outlook on life and "opened many doors to go out and do other crazy stuff." She adds, "if I fear anything, I know I need to go through right into it!"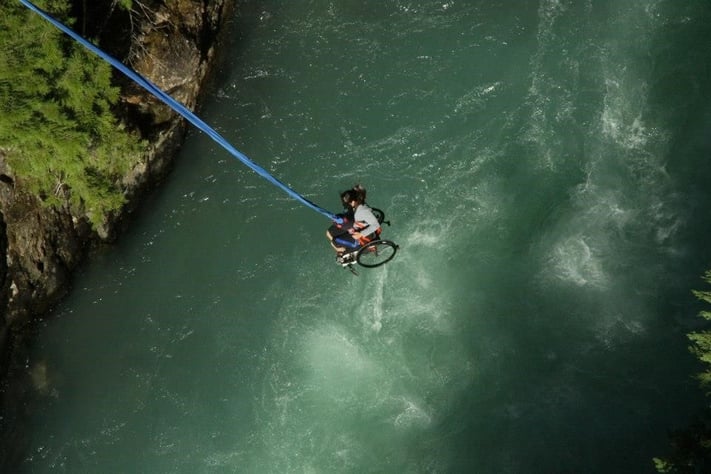 "What does Adapt. Believe.Compete mean to you?"
"It means overcoming the challenges of getting around adapting and not letting anything hold you back from the next adventure.
Story behind the Second Photo: This is the skydiving photo. It was exactly a year after the bungee jumping day at the adventure camp. "I was in Santa Barbara and I jumped off of the plane at 18,000 ft!" We asked which adventure was "less frightful and easier- if that's even possible- for someone who is very curious but is kind of scared to death! She said that skydiving is definitely easier compared to bungee jumping- once you pass that threshold of jumping off the plane! "Also, you're with a trainer, so that's more comforting!"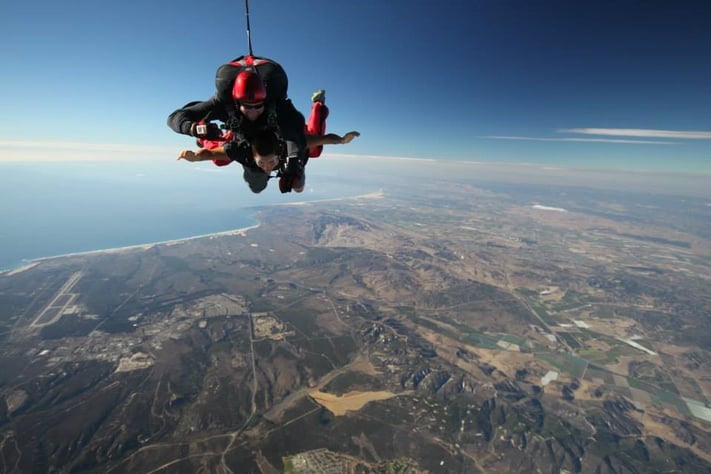 We asked her who her role model is, she said she had many people she can think of, but Andrew Skinner, the founder of the Triumph Foundation is definitely someone she looks up to. "He just has the biggest heart. He wants to help out everyone who recently got injured and make sure they have resources available to them!" she said.
So, what's next for Melissa Allensworth in life? Well, it's not difficult to guess the answer for this free-spirited young woman. With much excitement she responds to my question, "Figuring out what the next crazy stuff I'll do!" But, she also adds the following, "I want to help the Triumph Foundation further grow. And, I also want to continue helping others."
Would you be interested in a new Photo Contest? Let us know! With your feedback, we might consider bringing it back. :)