For the past 5 years in April, ABC Medical celebrates National Adaptive Sports Month. The goal of this social media awareness campaign is to promote adaptive sports. Whether it's spreading new information throughout the adaptive sports community or reaching brand new people who have never heard of adaptive sports before, this campaign is a vital resource we can all utilize.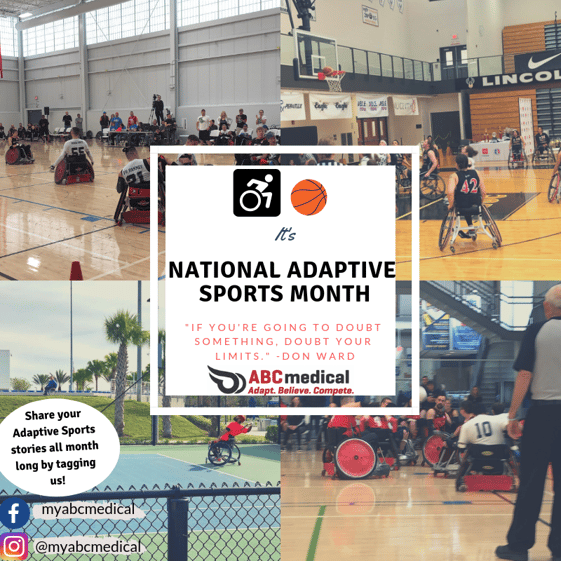 National Adaptive Sports Month is important to me personally because it sets up a platform to promote what I am passionate about, wheelchair sports. I usually use hashtags related to wheelchair basketball anyway, and during April, #NASM2019 will bring new eyes to what I share online. In addition, I can also learn about other sports such as Quad Rugby and Sled Hockey, both of which held their National Championship Tournaments last month.
March was a month of adaptive sports madness! ABC Medical sponsored and attended several of the NWBA National Tournament Series Tournaments. We had the most coverage at the Junior and Women's National Tournaments which took place on the same weekend across 4 venues in New Lenox, IL! Much thanks and appreciation to LWSRA and NWBA for coordinating last weekend so flawlessly! Shout out to my women's team, the Charlotte Lady Hornets! I'm so thrilled to see what next year has in store for both my team and the Women's Division as a whole. Adaptive sports would not be where they are today without the voices and actions taken by people who believe in the true spirit of sport at any level and any ability. Every body deserves access to sports. I hope to help grow awareness by participating in National Adaptive Sports Month.
Over the last decade, I have noticed the technology advancements that have accelerated adapted sports awareness. I have used Facebook live streams to watch and share basketball games, used dozens of different sports hashtags, followed individual athlete and team pages, and been a part of social media campaigns within our adaptive sports community. Advocacy and making ourselves visible is one of our most important tools we can use to bring awareness to the adaptive sports we are passionate about.
Please take a second to add #NASM2019, #nationaladaptivesportsmonth, and tag @myabcmedical on your adaptive sports related posts so we can see them and feature them on our pages!
Happy National Adaptive Sports Month everyone!