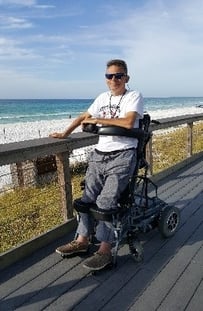 In February 1990, I was injured with a C5/6 spinal cord injury. I felt I needed to find a way to stand up, even with the disapproval of my rehab doctor. who did not believe there to be any benefit from standing.
I fired him.
In 1993 I met the owner of The Standing Wheelchair Company and purchased my first Superstand standing wheelchair.
We have been friends ever since.
By using the HPS-2 model Superstand I have not suffered any health related issues related to prolonged sitting. This is because I can stand up anytime anywhere. I am a living testimonial for standing while using a wheelchair.
I wanted to find a way to promote it. In 2002, I began working for the Standing Wheelchair Company and since have seen the lives of wheelchair users become outstanding. People are finding better employment, standing at church, enjoying better health, and participating more freely socially.
The Superstand model HPS-2 is the only one manufactured in the U.S. For individuals, this chair offers exercise and health benefits from manual standing all day long and the energy conservation of a power chair. Recently the long and short term benefits of standing has accrued an impressive amount of empirical evidence, with research indicating dynamic correlations between individual health and the amount of time any person spends in a seated position. This particular scenario is significant as last year alone in the United States there were more than 60,000 pressure wound related deaths. Without standing these problems often compound leading to flap surgeries which cost upwards of $300,000: a procedure that, once done, must be repeatedly repaired and repeated. Even after all of this, the person is usually sent home with the same wheelchair that allowed these wounds to occur in the first place.
The Superstand will provide a better quality of life for the individual.
Watch video below to learn more about the benefits of standing:
Check out the self-emptying leg bag system: Melio Leg Bag