J Dee Marinko, ABC Medical scholarship recipient writes about his experience at the ParaLong Drive Championships in 2014.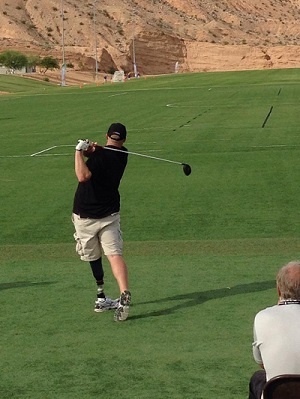 I had a great time at the Paralong Drive Championship. First thing is I want to say thank you so much for the help from ABC Medical. Without your help I would not have been able to meet the great people that were at the event. For me this was the first time I have ever competed in a long drive event and it was so much fun to go out and compete with all of the great athletes that were there. I think we had about 45 athletes from 10 different countries. I finished 4th overall in the open division which they took the top 6 drives from the the weekend from all divisions to see who could put the longest drive out there. There were different divisions out there so that we all could compete with other athletes that have the same or similar disabilities. Meeting the great men and women that were out there competing had to be the best time I have had in a long time. I never have seen so many people with the competitive nature to go out and give it all that you have to see how you compare to the rest of the world. My goal was to go out and win. I slipped up and didn't get the win, but I won more by just meeting so many great people I will spread the word about it and I will try and make it out there as many times as I can. I meet Dave Sawtell and this man was an inspiration to me. He came from Gold Coast, Queensland, Australia so he and his team traveled a long way to compete. The difference with him was that others in his division had motorized chairs, so they could stand and strike the ball. Dave sits in his everyday chair. He doesn't have a motorized chair to help like others do. He was the only one in the whole competition to use his everyday chair and he won. I meet some many great people and Dave and his team stand out to me because while I was getting ready for the finals they were there supporting me and that meant so much to me because I didn't know anyone and they were there to help however they could. I was there supporting Dave as well so the friendship that we formed that weekend will last forever.
I have to tell you that meeting so many great people was such and inspiration to me. Again, thank you so much ABC medical for everything you guys have done for me and for what you guys do for everyone that you deal with.
Sincerely,
J Dee Marinko