ABC Medical has awarded 5 athletes with a scholarship to be able to attend the Alabama Wheelchair Basketball Summer Camp this summer. This is the second story we're publishing on our recipients. First set of stories is available here.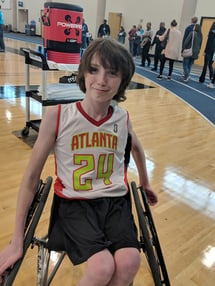 Meet Hunter Martin, he plays for the Atlanta Jr. Hawks. Some of his hobbies include playing basketball and running track. But, he also loves to watch sports of any kind. My passion is sports. I liked sports before I was paralyzed and finally found a team to play with that has kids like me on it."
To him, the motto: Adapt. Believe. Compete means, "You can adapt to anything, nothing is impossible, never give up and always believe and always be competitive." We hope your passion for sports and basketball grows after this camp, Hunter!
Last but not least, meet our 5th summer camp scholarship recipient, Jackson Horne! Jackson is 12 years old, and plays on the Lakeshore Sharks.
He has many aspirations, including becoming a Veterinarian, Orthopedic surgeon, representing Team USA in the Paralympics. His hobbies include learning how to use puppets, playing the trumpet, and having nerf wars and basketball games with his friends!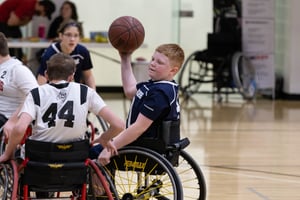 "My mom takes me to Lakeshore so that I can play basketball with my friends and my brother. My passion is basketball. I love playing and I even played when I had a broken thumb because I didn't want to let my team down and I didn't want to miss out on the Tournament."
"Adapt to me means instead of changing shoes I change my tires. I also play my sports in a wheelchair instead of on my feet."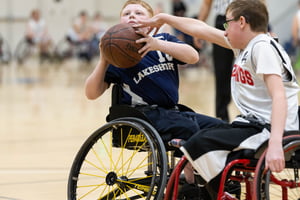 "Believe to me means that when I am on the court, I believe I will beat my opponent. I also believe that I can do anything anyone else does I just have to do it a different way."
"Compete means that I get to do what I love; I get to go to games and play my hardest and hopefully win but no matter what I will have fun."
We hope to see your aspirations come true, and that you'll have a blast while at the camp, Jackson!
Congratulations to all 5 of the scholarship winners ! ABC Medical is honored to send these young talents to Alabama Basketball Camp, where their passion and love for wheelchair basketball will grow thanks to the talented and experienced coaching they'll receive. Have a great time at the camp Jeraldo, Preston, Samantha, Hunter, and Jackson and don't forget to Adapt. Believe. Compete. in all you do!
Love, ABC